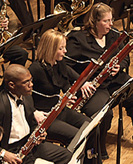 University of Illinois Orchestra Program
One of the main rewards for those hours in the practice room is playing great orchestra repertoire. Playing in a UIUC orchestra, you'll learn the masterpieces, the minor gems, and the avant-garde. Whether you're set on having an orchestra career or prefer being a techo-geek, if you have the chops, there's a campus orchestra for you. The orchestra directors hear auditions at the start of each semester and determine each player's qualifications for and placement in one of three primary orchestras: the University of Illinois Symphony Orchestra, the University of Illinois Philharmonia, or the Illini String Orchestra. The School of Music and Champaign-Urbana area have additional orchestras that offer experience and income to UIUC students.
University of Illinois Symphony Orchestra
UIUC's premier orchestra performs both standard and unusual repertoire. You'll get excellent training as well as satisfaction from solid performances of great music. Director Donald Schleicher's popularity in Illinois and out of state rests on more than interpretive skills. His technique is clear, his leadership firm, and he knows how to instruct and correct without impinging on the joys of music making. Both music and non-music major students participate in the UI Symphony Orchestra, based on a qualifying audition.
University of Illinois Philharmonia
Jack Ranney, director of the UI Philharmonia, often has a twinkle in his eye and an engaging smile for players. His orchestra has become such a favorite of students across the campus that it recently expanded to two groups (the Illini Strings is the other) to accommodate the many players, and he also occasionally directs additional area orchestras. Ranney is easy to spot; he's usually carrying a big score of some beloved classic. Regardless of major, you may audition for a place in the Philharmonia.
Illini String Orchestra
The new kid on the block, the Illini String Orchestra blends the awesomely sweet (with occasional sour) sounds of strings. You'll be amazed by the amount and effectiveness of repertoire available for string orchestras these days, from classics to music so fresh the ink and paper still smell new. This orchestra provides good ensemble and instrumental training for players from both the School of Music and elsewhere on campus.
Opera and Chamber Orchestras
With fabulous stage, set, and costume facilities at the Krannert Center for the Performing Arts, the School of Music stages a variety of acclaimed productions from the rich opera repertoire. Music students are generally selected from the ranks of the University of Illinois Symphony Orchestra to perform in the Opera Orchestra, gaining valued experience in the pit. As UIUC alumnus--and principal tuba with the Metropolitan Opera--Chris Hall points out, working with singers is great inspiration for phrasing and other aspects of musicianship. Instrumentalists can also play in the UI Chamber Orchestra, rehearsing and performing a wealth of material from baroque to contemporary repertoire. Professor Sherban Lupu leads the Enescu Ensemble, a virtuoso string chamber orchestra that plays on and off campus.
Sinfonia da Camera
Some of the best School of Music performers sit alongside faculty members in the Sinfonia da Camera, a chamber orchestra that has been heard often on NPR, made numerous CDs, and toured in England. Not only do the players gain hands-on professional experience but they also earn extra income from this participation. Pianist Ian Hobson, the Sinfonia's founder and director, selects players by audition.
Regional Orchestras
Many students learn and earn in the Central Illinois area's several orchestras, including the Champaign-Urbana Symphony Orchestra, Prairie Ensemble (also in Champaign-Urbana), Danville Symphony, and Illinois Philharmonic (in Springfield). These organizations especially welcome string players, and they usually post audition information in the late summer.