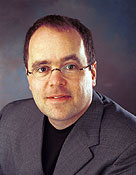 From the Director

About 2500 years ago the great Chinese philosopher, Confucius, anchored the principals of ethics in three fundamental phrases:
1. Cultivation of the ancestors; that is, the reverent preservation and study of the important achievements of history.
2. Cultivation of good manners; that is, the relation to one's fellow man.
3. Cultivation of music; that is the development of inner harmony.
The study of music should not be entered into lightly or without serious consideration. There is a great responsibility to one's self, to the composer, and to society. The study of music entails a commitment of great time and energy in order to fully live up to this responsibility.
Here at the University of Illinois School of Music, the students, the faculty, and the facilities, all come together to develop each individual's artistic voice. We offer undergraduate and graduate programs in performance, music education, composition-theory, and musicology. Our program is academically and musically guided by a faculty of active professional musicians, teachers, and scholars from throughout the world.
The School of Music is well endowed with scholarship and fellowship funds for the most talented and dedicated students. These scholarships and fellowships are highly competitive and are awarded by application and audition only. You may file and application and schedule an audition appointment by going to the "Admissions" section of the website and following the simple directions.
If professional music training with a strong liberal arts component is appealing to you, then do consider the University of Illinois. Should you have questions or desire any further information concerning admission or our scholarship/fellowship program, please do not hesitate to contact us. I'll be glad to talk with you about your pursuit of music, whether it be a career or just a means to an end.
Karl Kramer