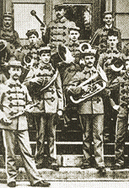 About Our History
In March 1868, for the inauguration of the University of Illinois, composer George Root visited from Chicago to lead a choir in his new "University Anthem." Aptly enough, music "took root" immediately in the new university community, music studies and ensembles assuming a significant presence on the campus even before the School of Music (SOM) opened in 1895. Pianist Charlotte Patchin was the first music instructor hired, and soon two voice teachers joined her in the 1870s. By 1893 the all-male Military Band of some 60 members represented the University at the World's Columbian Exposition in Chicago. The next year, wanting to attract more women students, University President Andrew Draper proposed adding a School of Music. Illinois's flagship musical institution began with about 45 students, and a Ladies' Glee Club was among its eight active ensembles. From the beginning the intent was to balance "first-class courses" with performance.
By 1902-03, the School of Music was already providing leadership in teacher training, initiating a progressive course in Public School Methods. The remarkable Albert Austin Harding, student in the College of Engineering and first-chair cornet in the band, became band director in 1902 during his junior year. Harding introduced open-air band concerts on the Quad as well as the "Block I" marching band formation, and he made about 150 of his own transcriptions from operatic and orchestral scores. Under Harding the band grew from 30 members to 215 by 1918. John Philip Sousa was Harding's friend and admirer; visiting the campus in 1930 he called Harding's ensemble "The world's greatest college band" and donated his music library to the school.
Our first SOM building is now a registered historic landmark. In 1916 Captain Thomas J. Smith donated land and money for this building (now called Smith Music Hall), as well as four scholarships, in memory of his wife. The school's director, Frederic Stiven, then wrote "To Illinois belongs the honor of being the first state to put its School of Music on the same basis as the other colleges of its great University." He set the tone for the SOM to give both specialized professional training and an appreciative understanding of music through "zealous teaching."
In the forefront of education, generations of music faculty here have been innovative. In the 1930s pianist and educator Velma Wilson led a music appreciation course with 171 students and used radio and movies as new media to teach it, helped establish the music education curriculum here, and helped organize All-State Music Festivals on campus. Theorist Hubert Kessler, a student of Heinrich Schenker, brought Schenkerian analysis to courses here as early as 1930.
After WWII Ludwig and Laura Zirner introduced ever more operas to the campus in a sustained, imaginative, and serious way. Old and modern, minor and major, standard and unusual—operas have been presented in annual workshops and performances ever since. Along with outstanding faculty, these productions have attracted some extraordinary vocal talents to the campus. Also in the late 1940s concert violinist Paul Rolland led the first Illinois Stringed Instrument Clinic and helped organize the American String Teachers Association. In the 1960s, with a grant from the U.S. Dept. of Education, he developed a string pedagogy course and a new method that he called the "teaching of action in string playing," now used worldwide. Among the University Orchestra's credits are an extensive tour of South America and concerts under such guest conductors as Sir Thomas Beecham, Margaret Hillis, Paul Hindemith, Rafael Kubelik, and Leopold Stokowski. The Walden String Quartet was the first such ensemble in residence full-time at an American university. At UIUC and throughout the United States it specialized in contemporary music. Today, the Pacifica Quartet carries on in that tradition.
George Hunter established a Collegium Musicum here in 1950, and early music groups have developed since, using period instruments and replicas of them. New music—composition and performance—has brought still more acclaim to the SOM. For decades the school held Festivals of Contemporary Arts, drawing such composers as Igor Stravinsky and Aaron Copland, John Cage and Harry Partch, Benjamin Britten and Elliot Carter. Professor Lejaren Hiller helped establish computer- and electronic-generated experimental music studios that were the first of their kind in the Western hemisphere. In Urbana, the legendary home of Hal in Kubrick's "Space Odyssy," music students not surprisingly could use PLATO by the 1970s to help learn theory and aural skills. By the mid-1980s ChoraLearn, a computer program designed here, imitated and analyzed Bach chorales. UIUC theorists and composers have continued to design innovative computer programs building on those roots.
The SOM began an outreach, or "extension," program in 1948 and the Illinois Summer Youth Music programs in 1949, hosting numerous young people and teachers from throughout the state in the years since. At the other end of the spectrum, the SOM's at times explosive growth in library research facilities, its stellar faculty members in musicology, composition, and education, and its early establishment of four doctoral programs have drawn serious young professional scholars, composers, teachers, and performers to the campus for graduate work that has taken the school's influence to all parts of the globe. From all these remarkable and strong roots our school's faculty and students continue to develop.