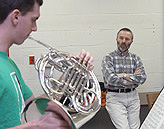 Academics
The University of Illinois has a 130 year legacy of outstanding academics in the study of music. The school is made up of four divisions of study that cover performance, theory and history, music education and pedagogy, and open studies. Undergraduate students are exposed to an integrated program of performance, history, theory, and pedagogy with faculty members who are considered the best in their field. The curriculum strives to develop undergraduate students to their fullest potential as teachers and performers. The programs also acquaint proficient instrumentalists with traditional literature, and new compositions and arrangements written by students and faculty. The incorporation of technology such as MIDI instruments and computer applications—many developed at the University of Illinois—provides students with a well rounded experience, while preparing them for independent studio, teaching, or for further professional study at the Master's level.


News About Courses and Curricula in Jazz
As of April 2005, numerous courses and three curricula in jazz (BM, MM, and DMA) had been approved by the School of Music faculty. The BM in Jazz Performance is now awaiting action by the UIUC Faculty Senate. The graduate curricula in jazz will be considered by the appropriate College committee at its next meeting in May 2005.
News About the Bachelor of Arts with a Major in Music
The UIUC Faculty Senate and Board of Trustees have approved the transfer of the Bachelor of Arts in Music to the College of Fine and Applied Arts and the School of Music! Beginning Fall 2006, all new students pursuing this degree will enroll through FAA/Music. Students currently in the original LAS Music curriculum may continue with LAS as their home college, or may switch into FAA. For details, please contact Edward Rath, Associate Director in the School of Music.