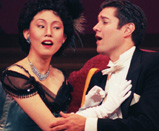 Opera
Opera students make a scene at UIUC—in fact, lots of them. They have sung leading roles in almost every major opera in the repertoire, in national or regional premieres, and in minor masterpieces. That experience is part of the professional training that makes UIUC graduates complete vocal artists. Using the outstanding facilities of Krannert Center for the Performing Arts, singers learn the backstage operations of their craft first-hand. Ludwig and Laura Zirner, whose innovations in "unit" costumes and sets were copied at Tanglewood and many other opera centers in the mid-20th century, initiated the full participation of UIUC Opera Workshop students in both singing and staging of works. Today's UIUC students also participate in Youth Opera Preparation and Education; the title is a mouthful, but through the program they have sung to 35,000 youngsters statewide, invaluable experience for the singers and their audiences. As three-time Grammy Award Winner tenor Jerry Hadley said of his education at UIUC, "The nurturing, encouragement, and support given [me] continue to serve as the foundation of everything I've been able to accomplish."
The 2005-2006 opera season will include performances of Verdi's La Traviata; a double bill of Ravel's L'Heure Espagnole and Falla's La Vida Breve; and a double bill of Weill's Mahagony's Songspiel and Stravinsky's L'Histoire du soldat (with the New Music Ensemble and the UIUC Dance Department).
Auditions for
Mahagony's Songspiel
will be held in early December 2005. Details will be forthcoming.