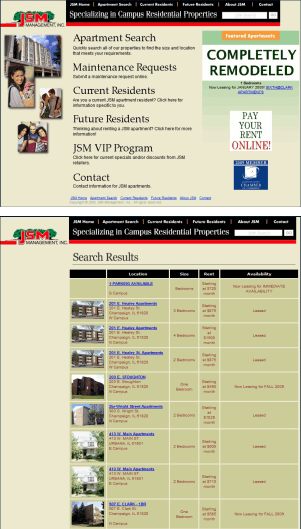 Featured Site
JSM Apartments
The JSM site was becoming dated and hard to navigate and John Bonadies was contracted to update the look, structure, and navigation. The site had an existing database to house the companies apartment information and availability, so the new site would need to incorporate the same data.
After the final site design was established, GlennWeb.net was contracted to implement the site and incorporate the existing database information. Due to hosting requirements the site would need to use the existing Ace-In-The-Box scripting language and MySql database instance. GlennWeb.net quickly came up to speed with Ace and implemented the new design using the existing data and data structures.
Technical Info
Apache on Linux
MySql
Ace
Designer: John Bonadies
The site was launched shortly after completion and was well received by the client and designer.