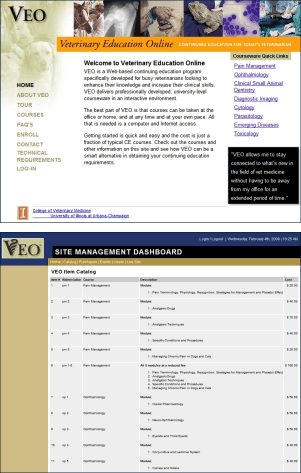 Featured Site
University of Illinois - Veterinary Medicine
As part of an expansion of the University of Illinois Veterinary Education Online (VEO) program the existing web site is being given a more cohesive look. The current site is small but will expand quickly as more courses are brought online. The new site would also need to be easily updated by current VEO staff.
Technical Info
Dreamweaver
HTML
CSS
Designer: John Bonadies
The completed site design and associated content was delivered to GlennWeb.net for implementation. Due to the simplicity of the overall site we recommended that it be created with Dreamweaver templates. The base templates were created and all site pages were created based on those. The site is complete and currently awaiting final approval by the client.