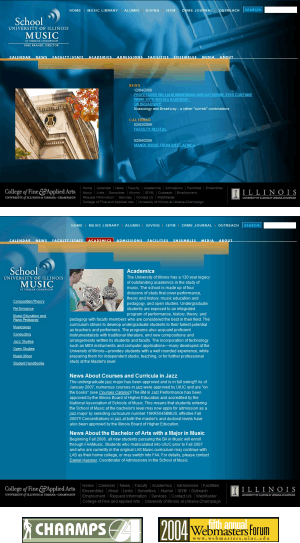 Featured Site
UIUC School of Music
Before the redesign the School of Music site was a simple HTML site managed internally through Dreamweaver. As a part of a complete media and communication redesign the School of Music web site was to be completely redone to reflect the new image. The site itself would be of medium size and include a fairly large set of custom content to be managed by internal staff. The managed content included viewable and printable Room calendars with individual hourly schedules, Event calendars, Daily News items, Faculty information including bios and media files, Employment postings, Career postings, FAQ management, Link management, Online Information Requests, and Online Enrollment Applications.
Working closely with the client and designer, GlennWeb.net laid out a new site infrastructure which would support the creation of a custom Content Management System (CMS) to handle the various managed content requirements. Development of the browser-based CMS proceeded as the actual site design was being refined. As the completed site design was incorporated into the CMS it was continually refined and revised to reach the final layout and feature set. The site was then launched by GlennWeb.net and handed over to the School of Music staff for ongoing management.
Technical Info
Apache on Windows Server 2000
PHP
MySql
Custom CMS
Custom Database
Designer: John Bonadies
The new School of Music site actually has two components, one is the public-facing site itself and the other is the browser-based CMS 'Site Dashboard'. Changes and updates are made to the site using the secured Site Dashboard, which provides easy content revisions while guaranteeing overall site integrity (a great benefit as multiple staff members can continually update the site).
The new site was very well received by public and staff, with many positive comments and a very steady usage pattern. The site continues to be updated daily and the individual room schedules receive a heavy workout. The online applications have also been well received with the numbers of new enrollment applications to-date being well above previous years. The site is quite a success and the client, designer, and GlennWeb.net continue to work on enhancements and additional site features.