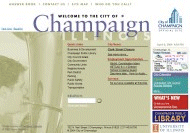 Featured Site
City of Champaign
The existing City site had a dated feel and the home page was one large image with image-mapped links to some of the various site sections, not an ideal situation. In anticipation of a complete site redesign the home page was contracted to be redesigned to allow direct access to the site's many sections and display highlighted news and information. The designer worked closely with the client committee to arrive at the final home page design and GlennWeb.net was contracted to implement it.
In anticipation of the complete site redesign, GlennWeb.net architected a small browser-based CMS and associated database. The new home page design was then incorporated into the CMS along with a few new ancillary pages (Spanish information, News display, etc.). The direct-access links to the site's many sections was handled by a custom Javascript/CSS popup menu.
Technical Info
Apache on Linux
PHP
MySql
Custom CMS
Custom Database
Designer: John Bonadies
It was also desired that the new home page meet 508 accessibility guidelines, however with the Javascript popup menus this necessitated creating a special text-only version of the page. Using the benefits of the CMS system (same data, multiple views) this was easily accomplished. The site was quickly launched after a couple rounds of revisions which served to condense as much information as possible on the home page.
The site has been well received and is actively updated. The client has made plans with the designer and GlennWeb.net to proceed with the whole site redesign later in 2004.